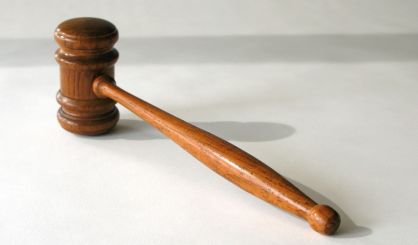 Authorities say a Bay County sheriff's deputy assigned as a school resource officer at Bay City's Western High School was testing his back up weapon in an empty classroom when it discharged. Tuscola County Prosector Mark Reene says the 38-caliber bullet went through a wall into an adjoining and ricocheted three times, flying over the heads of some 30 students and hitting a teacher in her neck. Reene calls it a case of divine intervention no one was seriously injured or killed.
"For those of you who believe in divine intervention, this incident is further evidence thereof," Reene said. "The fact no student was injured or killed and only a minor injury was suffered by a teacher in a classroom is nothing short of a major miracle."
Reene says after a thorough and professional investigation by Michigan State Police, he has charged deputy Adam Brown with evidence tampering and careless discharge of a firearm. Brown was released on a personal recognizance bond after his arraignment on the charges Thursday. Bay County Undersheriff Troy Cunningham said Brown is suspended without pay until the criminal case is concluded.