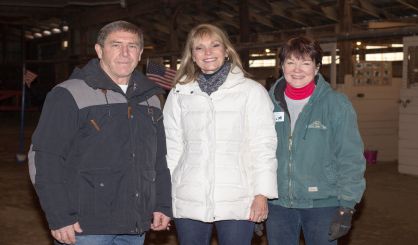 The Therapeutic Equestrian Center in Watervliet has been able to expand its winter programs, thanks to some memorial donations. The center's Autumn Zick says they held a small ceremony this month to honor Sarah Damaske and Bob Egan, whose memorial contributions have made it possible to install heating over the barn's arena.
"We can go and be able to offer in the winter more programming that way," Zick said. "It certainly takes the chill out of the air. It won't, by any means, make it seem like you're sitting in your living room, but it certainly makes it much more comfortable."
Sarah Damaske was a supporter of the equestrian center who passed away at 29 as a result of melanoma. She wanted any memorials made when she passed away to be given to TEC. Bob Egan was an avid horseman who worked with the Berrien County Youth Fair. He also wanted memorials go to the equestrian center. Zick says the help they've been able to provide is very appreciated.
Pictured from right to left: Bill and Jill Damaske, with Zick.