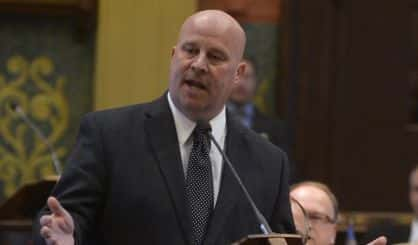 The state House career of Representative Al Pscholka is now over. The Stevensville Republican joined WSJM to discuss the past six years in Lansing, saying he's proud of helping get the state on the right financial path.
"Michigan was not in a real good place financially," says Pscholka about when he first ran for office in 2010. "We had $2 million in the bank, we had lost 800,000 jobs." Six years later, he says the state has $700 million banked, "we've balanced the budget six years in a row, and I think Michigan's headed in the right direction."
Pscholka had a big hand in the financial direction of the state, serving as House Appropriations Committee chairman the past two years. As for his most impactful piece of legislation, he's quick to say it's the Good Samaritan law.
"What we did after Mason Mizwicki died in Watervliet and changed the Good Samaritan law, I am hearing literally every week, either from a college campus or something that happens at a high school party, somebody's life being saved because we changed that law."
The Good Samaritan law protects people from prosecution if they call authorities to report a drug overdose. Mizwicki was a 16-year-old Watervliet High School student who died at a New Year's Eve party when he overdosed on prescription medicine, and his friends were too scared about getting in trouble to call for help. As for regrets, Pscholka says he doesn't really have any, but is well aware of some of the criticism against him.
"I was not one of these guys who would check with somebody before I would vote," Pscholka tells WSJM. "I just didn't do that. I figured you sent me there for a reason, you sent me there to make decisions, and I shouldn't have to check with four or five people back home before I make a decision. Some people have criticized me for that."
Pscholka says, however, that's what a representative democracy is and he's always tried to vote his conscience and represent Berrien County well. He'll be succeeded by Kim LaSata in the House on January 1.