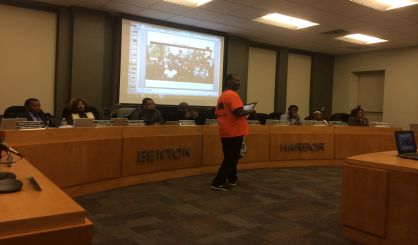 A fast growing youth organization in Benton Harbor is hoping to have a big year. The Bracken Edwards Youth Organization Umbrella — or, BEYOU — just got started this past summer, cleaning up Hull Park and holding basketball tournaments for the kids. Leader Jerry Edwards tells us they want help to do more in 2017.
"What we plan on doing is spreading it out through the parks, and we're trying to get the community, even the adults, into it," Edwards told WSJM. "We found out a lot of seniors like walking, so we're trying to include them with the same similar projects as kids."
Edwards says they'd like to offer more sports, and eventually prepare young people for careers. Anyone interested in helping can call Edwards at 961-1594. Benton Harbor City Commissioners on Tuesday applauded all of the work BEYOU has been doing.