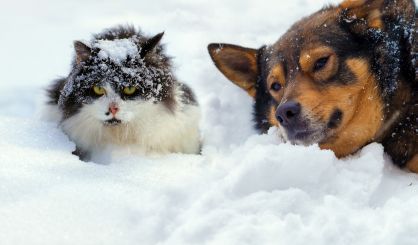 With freezing weather now here in southwest Michigan, Van Buren County Animal Control is taking a few extra steps to keep critters safe. The shelter's Ashley Taylor tells our WSJM News volunteers are driving around the county looking for dogs or cats left outside and offering their owners extra help if they need it.
"We plan on doing this all winter long," Taylor said. "Somebody calls up and says, 'I want to do more for my dog but can't really afford it,' if they want to come in and get something from us, that's fine."
Animal control will provide straw, food, and in some cases, dog houses. They're taking donations of items to be distributed to the dogs and cats of Van Buren County, and also welcoming volunteers. Animal control this weekend is putting out "kitty cubbies" around the county for cats to hide in when it's freezing. If you want to get involved, check out their Facebook page.