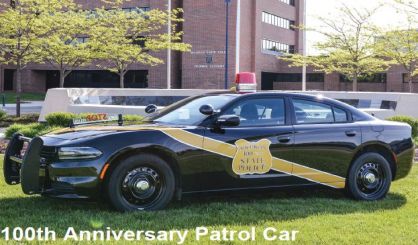 Michigan State Police are celebrating their department's 100th anniversary this year, and one thing they're doing is painting some cruisers to look like vintage MSP cars. Spokesperson Lori Dougovito tells WSJM News 50 black and gold cars will hit the road this week statewide.
"They're fully equipped 2016 Dodge Chargers, and they're painted to resemble the department's iconic 1937 Ford Model 74 patrol car," Dougovito said.
There are enough of the vintage-looking cars for at least one to be sent to every MSP district. Earlier this year, the state police unveiled special vintage-style hats for their anniversary. You can expect more such announcements all year.