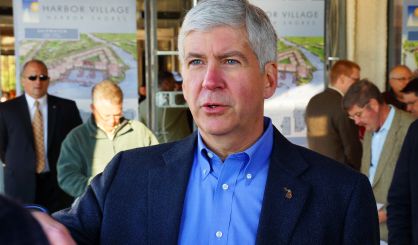 State Senator John Proos tells us he was overall satisfied with Governor Rick Snyder's State of the State address Tuesday night. However, he would have liked to hear a renewed call to get the cost of auto insurance down.
"It makes it very difficult for any of us as the motoring public to keep our cars insured," Proos said. "It's a very expensive proposition in the state of Michigan, and one that I think can be solved by smart bipartisan legislation. The governor didn't speak of that in his speech, but I can promise you that we in the legislature are going to continue to work to solve that problem."
Proos also tells us he wants to make reforming prison costs a top priority in 2017, something that could partly be addressed by helping people in prison get an education. That's why he was glad to hear the governor bring up vocational and technical training. One surprise Proos heard was the governor's call for a renewed fight against the Asian carp. He tells us if that invasive fish gets into the Great Lakes, it will be a disaster.
Meanwhile, 79th District state Representative Kim LaSata was pleasantly surprised to hear the governor's call for attracting more residents to the state.
"He said the population has grown 50,000 people over the last six years," LaSata said. "He'd like it to reach ten million people, like it used to be before people started leaving Michigan.
Like Proos, LaSata would have liked to hear the governor talk about auto insurance rates, telling us it's one of the things people bring up to her the most. LaSata did appreciate the governor's call for more computer education in schools, and was overall pleased with the address. It was her first State of the State as an elected official, and she welcomed Berrien County Sheriff Paul Bailey to Lansing to be there as her guest.