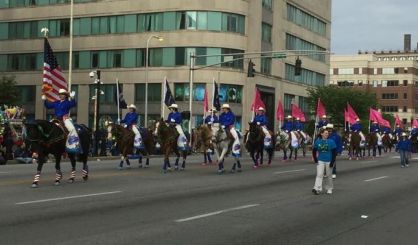 The Mid America Cowgirls Rodeo Drill Team is about to experience its big moment. The horseback team from Three Oaks is slated to take part in the presidential inaugural parade Friday afternoon in Washington, D.C. Captain Debbie Dunphy tells WSJM News it's been a hectic time as they made arrangements for the trip.
"We had to make arrangements for the horses to be boarded, we had to buy new flags, new jackets, we fixed up our cowboy hats, and we had to get all sorts of paperwork for our horses," Dunphy said.
That's not to mention the hotel rooms they had to book. Dunphy says they'll get started for the big event early Friday, preparing to march right past the man of the hour in the afternoon after he's sworn in.
"We'll go right past the reviewing stand," Dunphy said. "President Trump and Vice President Pence will be right there, and we'll be front and center."
The drill team has been raising money from the community to help pay for the trip ever since it found out it had been selected to be in the parade. Dunphy tells us everyone's been very generous.
"It has just surpassed our wildest dreams, how the area has come together for us," Dunphy said. "We've met our goal and what we needed to pay for our hotels and the fuel costs."
The rodeo drill team brought 16 horses to Washington for the parade. The group is made up of women and girls from 7 to 65 who take part in parades and rodeos all over the region. You can find their GoFundMe page here if you want to help them cover the total cost of the inaugural trip.
Also, the Three Oaks American Legion is planning a celebration to help defray the cost for the team when it gets back. The party will  be on January 28, and the cost to get in will be $7.50 for adults. They'll have a spaghetti dinner from 5 p.m. to 9 p.m. and then music from 9 to midnight.  The drill team will also show pictures and share stories from its trip.