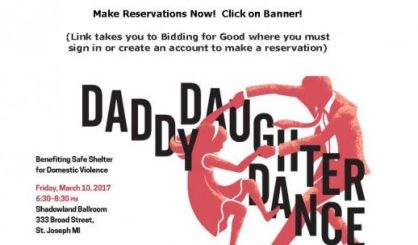 You can now get tickets to the next Child and Family Services Daddy-Daughter Dance. The first annual event was held last year, suggested by the Safe Shelter for Domestic Violence as a way for dads to show their young girls what a healthy relationship looks like. That's according to Child and Family Services Director Joseph Goepfrich.
"It really is a great opportunity for people to be involved, have a great time, and really just enjoy the evening," Goepfrich said.
The event last year sold out, so now's the time to get your tickets. You can get them at the Child and Family Services of Southwest Michigan website. The dance, set for March at Shadowland Ballroom in St. Joseph, will feature music and refreshments, and all proceeds will go to the Safe Shelter for Domestic Violence.