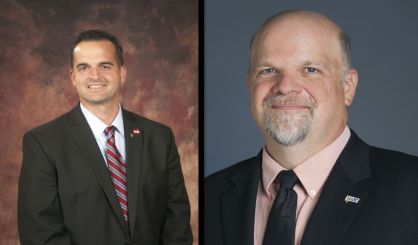 The Lake Michigan College Board of Trustees has narrowed down its search for a new college president to two candidates. At a quick meeting Tuesday, the board picked Dr. Jon Mandrell and Dr. Trevor Kubatzke to be its finalists for the job. Board of Trustees Chair Mary Jo Tomasini tells WSJM News they've heard plenty from the public as the search has continued.
"We did take feedback from the college staff, students, and public, and we received an overwhelming amount of surveys back," Tomasini said. "167, which is more more than we received at any other time that we recall. So, we were pleased with the feedback that we received."
Mandrell and Kubatzke were interviewed for the post last week. Mandrell is the VP of Academic Services at Sauk Valley Community College in Dixon, Illinois, while Kubatzke is the VP of Student Services at Milwaukee Area Technical College. Tomasini says the board will do more research and pick their president within 30 days.
Pictured: Dr. Jon Mandrell (left) and Dr. Trevor A. Kubatzke (right).