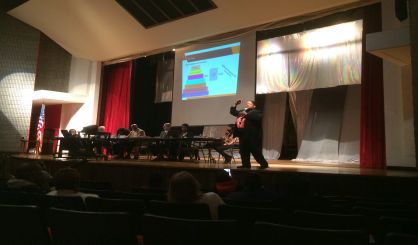 Benton Harbor Area Schools Superintendent Dr. Shelly Walker isn't going to give up on three district schools targeted for possible closure this year by the state. At a town hall Wednesday night, Walker told a crowd of about 50 the Michigan School Reform Office will be in town soon doing an academic audit of the Dream Academy, the STEAM Academy, and the International Academy to decide their fate. She's going to show the SRO what has been done in the past year to improve the facilities.
"We are very purposeful in our teacher evaluation tool, and I think you heard that come out loud and clear tonight, that Benton Harbor really is ensuring that we are monitoring what we're doing , and I think that's one of the biggest differences," Walker told WSJM News. "We are monitoring."
Walker says students now have new intervention programs, and the district didn't even have a curriculum before this year. She wants the SRO to recognize recent changes and give the district three years. She told us they need to know about "the magnificent things happening in Benton Harbor."
"I am so hopeful," Walker told WSJM News. "I am so happy, and I know that because what we are doing is the right work, I can stand on that."
Meanwhile, residents who came to Wednesday night's town hall have both hope and concerns about the future of the district. While many were supportive of Dr. Shelly Walker's message that the schools are now getting things right, others feared what will happen if the community's children have to be sent elsewhere for their education.
"A lot of the parents and a lot of the kids have been a part of this district for years and they have a sense of pride," local resident Rod Jennings told WSJM News.
Others had racial concerns, wondering how Benton Harbor children would be received in other communities. Folks in attendance also offered the board of education suggestions, ranging from giving the students a stronger voice to giving the kids sample M-STEP tests. If Benton Harbor Area Schools loses the three academies under review, the district will no longer have any buildings to serve elementary-age children. Walker told us that would turn BHAS into a grade 6 through 12 district only.