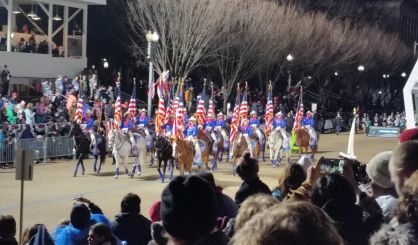 The Mid America Cowgirls Rodeo Drill Team is back in Michigan after riding in President Trump's inaugural parade last week. The outfit based out of Three Oaks brought 16 horses to Washington to march past the president. Captain Debbie Dunphy told WSJM News us what that was like.
"It was still kind of dark where we were at until we turned on the street to go past the president on the reviewing stand, and then it was extremely bright, very lit up," Dunphy said. "We marched right on past him, and he looked us in the eye, he gave us that positive fist pump that he does, and he saluted us."
Dunphy says friends and family accompanied the team to cheer the drill team on.
"As soon as we passed the president, we got all these hoots and hollers and yelling our names and waving, cameras, all that," Dunphy said. "It was pretty neat."
Dunphy says she's glad they went.
"It was just amazing," Dunphy said. "It's really even hard to describe. The feeling you get when you are walking past the president and he is looking right at you. You get that thumbs up from him and that big smile, it was just the neatest thing."
The parade was quite the kickoff to the team's season, as Dunphy says they're now preparing to be busy for the summer. The Three Oaks American Legion is planning a celebration for this weekend to help defray the cost of the trip for the team. The party will be on Saturday, and the cost to get in will be $7.50 for adults. They'll have a spaghetti dinner from 5 p.m. to 9 p.m. and then music from 9 to midnight.