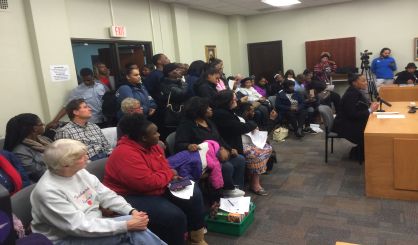 The time for action is now. That's the message of a town hall held at Benton Harbor City Hall Thursday night. A packed house gathered to hear about how a coalition organized by Mayor Marcus Muhammad is going to save three public schools from closing. On hand were pastors, elected officials, and community advocates who all agreed Benton Harbor Area Schools needs to be kept alive. Mayor Muhammad said they're taking part in a march in Lansing on February 24.
"This is not just a moment but a movement that's going to correct years of wrongs to help service our children," Muhammad said.
38 schools statewide have been targeted by the Michigan School Reform Office, including Benton Harbor's Dream Academy, STEAM Academy, and International Academy. If the district loses those schools, it will no longer have buildings serving elementary-age children.
Also on hand for Thursday's meeting was the Reverend David Alexander Bullock, of Highland Park. He's campaigned for civil rights causes statewide, and told WSJM News the closure of schools, often in areas with large African American populations, is indeed a civil rights issue.
"Schools are being closed in Detroit, Saginaw, Flint, Muskegon Heights, Lansing," Bullock said. "Schools already have been closed in Highland Park and Inkster, and we think the state of Michigan really has mobilized a statewide attack on urban education."
Bullock said a lawsuit needs to be filed immediately to kkeep open the three local schools facing possible closure, and he also urged everyone to write letters to Betsy Devos, Donald Trump's pick for education secretary. He told us he is hoping to see a huge turnout at next month's event in Lansing. Bullock plans to start a campaign with EducationMattersInMichigan.com to keep everyone up to date on bus schedules and other information they'll need. You can also watch out for "ActionCAC"on Facebook or Twitter.