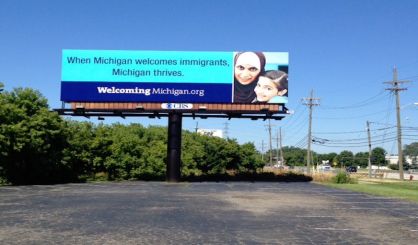 A weekend of chaos has given way to a new week of confusion following President Donald Trump's executive order on immigration and refugees. Experts say it will have an impact on virtually every Michigan community. Christine Sauve, with the Michigan Immigrant Rights Center, tells us while Trump has said the order is necessary to ensure those entering the country do not pose a threat, Sauve argues that it only serves to tear at the fabric of the nation and put all immigrants on edge.
"To worry, 'Am I going to be seen as suspect in my own community and will I ever be able to travel back to visit my family abroad?' This is a whole new era related to immigration law the likes of which we have not seen."
On Sunday, a large group turned out to protest the executive order at Detroit Metropolitan Airport. Thousands more rallied in Hamtramck, Dearborn and other cities across the state.