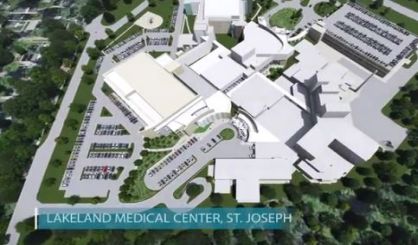 A $240,000 grant has been awarded by the Frederick S. Upton Foundation to Lakeland Health for a renovated education center. Lakeland CEO Loren Hamel tells WSJM News the new Frederick S. Upton Education Center will allow for more uses than the current facility.
"It will be a place where folks can come together as multi-disciplinary teams and learn and discuss and innovate and help transform healthcare," Hamel said. "It's also a spot, we expect will be suitable for community meetings and for board meetings and other activity."
The education center will be on the first floor of the new pavilion that's currently in the works. The pavilion is expected to be finished in about two years. Hamel told us Frederick S. Upton has been a key supporter of Lakeland all along. He thanks the foundation for its grant.