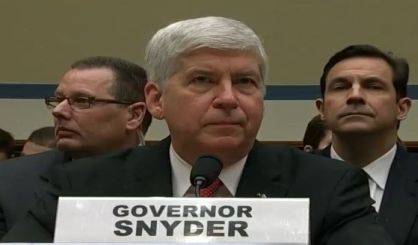 Following President Trump's executive order calling for a travel ban from seven predominantly Muslim countries, Governor Snyder says this is the perfect time to discuss "how to be welcoming."
"We need to have a thoughtful discussion on how to improve our immigration policies," says Snyder. "What should be the proper border policies, what are the right ways to be sure we are a welcoming place for people to come to our country and hopefully add value so hopefully we can all grow and be better off together."
Snyder calls the United States "a beacon of opportunity for people across the world — which we don't want to lose."
He also spoke about the proposal to get rid of the state's pension tax, and is opposed to doing so. The governor says there's not enough room in the budget to allow that to move forward.
"Many people forget that when we did that, we actually eliminated an exclusion that allowed people with certain types of retirement benefits and higher income not to pay anything," Snyder says. "What we did was actually broaden the excemption for all Michiganders, so in many respects we put something in that was better and fairer for all Michigan seniors."
The tax on public pensions was signed into law as part of a budget balancing plan in 2011.
Governor Snyder will speak in Benton Township at Lake Michigan College's Mendel Center for the Cornerstone Alliance and Cornerstone Chamber of Commerce Business Recognition Breakfast on Thursday.