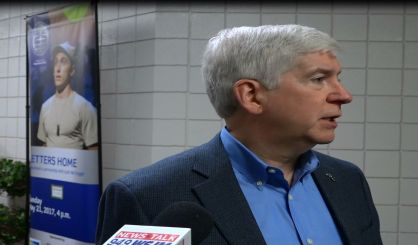 Cornerstone Alliance and Cornerstone Chamber of Commerce have held their annual Business Recognition Breakfast. The ceremony took place Thursday at Lake Michigan College with special guest speaker Governor Rick Snyder on hand. Snyder told WSJM News he sees good things ahead for southwest Michigan.
"Berrien County's unemployment rate is below the state average, and you've got great companies like Whirlpool and great small businesses that are doing wonderful things," Snyder said. "You've seen things like Pure Michigan work better and better in terms of tourism coming here."
Snyder also praised the Cornerstones, saying they're doing great things to keep the southwest Michigan business community energized. Winning awards this year were Silver Beach Pizza, which got the new Pat Moody Award, Lark's Barbecue, which got Small Business of the Year, and M&W Tire, which got the Customer Service Award.