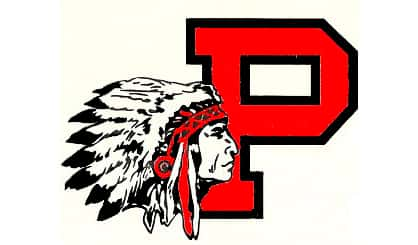 The Paw Paw School Board has voted to keep the Redskins name and image as their mascot. The board voted 4-3 late Wednesday to keep the mascot, which has been a source of controversy for decades. Board member Renee Richardson voted to get rid of the Redskins name, saying she's "sickened" by what's been going on in the community, with residents arguing and saying "hateful words to one another."
"A word that did mean pride and honor when it was chosen years ago has now turned us against each other," Richardson said before the vote. She added, "Times have changed, and we know now the word is hurtful to many."
Members of the Native American community have long said the name is offensive, is connected with discrimination against them, and should be changed. Supporters for keeping the mascot say the name is not used in a derogatory way and is a respected identifier for the community.
"For those who have called the Paw Paw community, including myself, racists, bigots, white supremacists for far too long, this idea that we have institutional racism within Paw Paw Public Schools is absolutely ridiculous," said board Vice President Aaron Mitchell. He and other supporters say changing the name is an issue being pushed by outsiders who have no stake in the community.
The Associated Press contributed to this report.