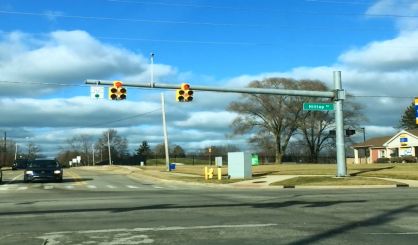 Coming soon will be a resurfacing project for Hilltop Road in St. Joseph. It's an effort  being taken on jointly by the city, the township, the road commission, and the Southwest Michigan Planning Commission. Project Engineer Alan Smaka, with Wightman and Associates, tells us they're doing a variety of work on the road.
"The curb lines will remain, so you won't have new curbs and gutters, but you'll have all the asphalt taken out and put back down," Smaka said. "In addition to just the asphalt work, there's water main work that's going to be done along the whole length."
They're going to move the water mains out from underneath the road in order to make repairs easier. Smaka says they're also going to add sidewalks along a big stretch of Hilltop, something the township's been trying to do for years.
"In the city of St. Joe from Lakeshore Drive across a few properties there as you approach the railroad track going east, and then there's going to be new sidewalks from Leco's property over toward the Chase Bank," Smaka said.
The $1.5 million project will start around spring and be done in the summer. It's being mostly paid for with state and federal funds.