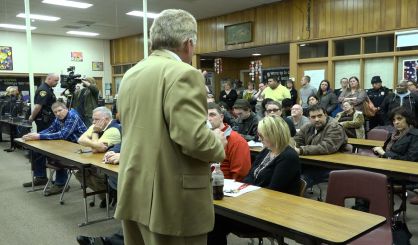 A secretary at Bangor Schools has resigned and some teachers have been reprimanded for their role in a video showing them having an inappropriate conversation at a local bar. At a meeting of the Bangor School Board Monday night, district attorney Robert Huber told WSJM News two teachers have been given formal reprimands, which puts them on administrative probation, and four more have been given verbal reprimands.
"We made our best assessment based on the facts, and reasonable minds can differ about things," Huber said. "This was our call as to what we thought was best under the circumstances."
It was a packed house as Huber addressed parents upset that the teachers may have been talking about students in a game in which they chose whether they would have sex with, marry, or kill different individuals. Huber said they were only talking about staff. Not everyone was happy with the school board's reaction.
"Not that people don't have a right to go out after work and get together, but you don't comment the way they were commenting, and it really disturbs me," resident Annie Davidson told WSJM News.
Some parents said they were shocked by the language being used by the teachers in a video that has now spread all over the internet.
"It's very appalling to know that my granddaughters who are with me are being educated by people like that," we heard from another woman.
Although there won't be additional penalties in the incident, Huber said he thinks everyone involved as learned an important lesson. Board members had little comment. The video was recorded last month at the Bangor Tavern.