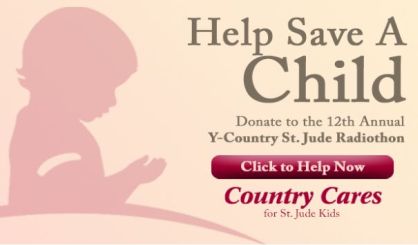 Coming up this week is Y Country Radio's annual Country Cares for Kids St. Jude Radiothon. Our sister station's two-day broadcast from Silver Beach Center in St. Joseph will be to raise money for one of the world's biggest cancer researchers. Y Country's Matt Malone tells WSJM News St. Jude teats kids with cancer for free.
"No family has a bill when they leave St. Jude, whether it be for transportation, whether it be for food while staying there, whether it be for the medical bills themselves," Malone said.
St. Jude Children's Hospital is also a major cancer researcher. Last year, Y Country's radiothon raise about $23,000 for St. Jude Hospital. The radiothon starts Thursday at 6 a.m. and will run through 7 p.m. Then, they'll do it again on Friday. If you want to help be a partner in hope, just go to 975YCountry.com.