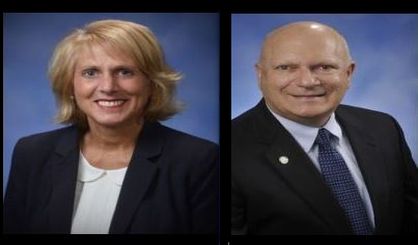 If you're a Berrien County resident interested in meeting your local Michigan House representative, you'll have a few chances in the next month or so. Both state Representatives Kim LaSata and Dave Pagel are planning local office hours. LaSata, of the 79th District, has several sessions planned in St. Joseph, Benton Harbor, Watervliet, Bridgman, and Coloma. You can find the schedule below. Pagel, of the 78th District, also has a coffee hour planned for Saturday, February 25 at the Union Coffee House in Buchanan from 10 to 11:30 a.m. No appointment is needed to go to either's event to chat with the representatives. Anyone looking for more information can call their offices.
LaSata, of Bainbridge Township, will meet with people on the following dates:
Friday, Feb. 24, from 9 to 10 a.m. at Sidetracks Café, 315 N. Main St., Watervliet;
Friday, March 3, from 9:30 to 10:30 a.m. at Mason Jar Café, 210 Water St., Benton Harbor;
Friday, March 10, from 8:30 to 9:30 a.m. at Thorton's Hometown Café, 613 Pleasant St., St. Joseph;
Friday, March 24, from 9 to 10 a.m. at Olympus Restaurant, 9735 Red Arrow Highway, Bridgman; and
Friday, March 31, from 9 to 10 a.m. at The Hot Spot, 361 E. St. Joseph St., Coloma.