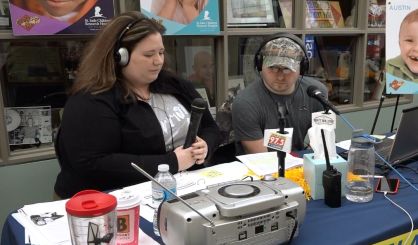 This Friday is the final day for the 2017 Y Country Radio St. Jude Children's Hospital Radiothon at Silver Beach Center in St. Joseph. Y Country's Matt Malone has been out there broadcasting live since Thursday, raising money for the hospital that treats kids with cancer free of charge. Malone tells WSJM News St. Jude doesn't only treat the children, though. It's also a premier researcher, always looking for a cure.
"This is an opportunity where we get to really come together as a community to help try to end childhood cancer," Malone. "That's the ultimate goal. Our goal is to shut down St. Jude Children's Research Hospital because we won't need it anymore, because no children are dying of cancer anymore."
Y Country's Sarah Matthews told us she hears the stories of the hospital's little patients each time, and it's an emotional roller coaster knowing what they go through.
"This is my 12th radiothon, and it doesn't get easier every year," Matthews said. "You think you're prepared for it, and then you hear the stories again, or you hear a new version of them, and it takes you from a high of hearing that a child was cured to a low of hearing what their last minutes were like."
Y Country raised more than $10,000 Thursday. They'll be doing it again Friday through 7 p.m. You can help by going to 975YCountry and donating to St. Jude. Everyone's asked to become a partner in hope.