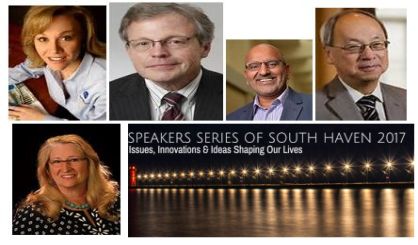 It will be a busy year for the South Haven Speaker Series. Its 2017 lineup was announced Friday, and board president Mark Odland tells WSJM News the guests will include professors, journalists, and school officials. The South Haven Speaker Series is a bit different from other, bigger name programs in that they invite guests based on which topics of the day organizers want to discuss, rather than aiming for celebrities.
"We find topics that are really top of mind for people right now, and then we find the speakers that can really do a good job addressing those topics," Odland said.
Odland tells us the South Haven Speaker Series is now in its third year. The first year, they had four guests, last year, they had five, and this year, they'll have six. He's glad to see the program growing. All engagements are $10 with tickets sold at the door at Lake Michigan College, South Haven. You can find out more at SouthHavenSpeakerSeries.org. Below is a list of this year's speakers.
March 14 — Dr. David Ryden, Hope College Professor of Political Science. He will address the impact of the U.S. Supreme Court vacancy, and what a new justice will mean. 
March 30 –– Dr. Jean Norris, specialist in higher education. He will address the challenges families face in making higher education decisions.
May 4 — Jack Lessenberry, noted Michigan journalist and NPR host. He will draw upon over 40 years' experience watching the workings of Michigan government.
June 15 — Bing Goei, Director of the Office of New Americans for Michigan and will speak to immigration issues on Thursday, June 15.  He will share an inspiring story about his personal journey as an immigrant and why immigration is so important to our future.
August 31 — Ebrahim Moosa, professor of Islamic Studies in the International Peace Program at the University of Notre Dame. He will address "Reform in Today's Muslim World."
September 28 — Dr. Yvonne Caamal Canul, Superintendent of the Lansing School District and Michigan Superintendent of the year in 2015. She will present her perspective of what really works in education today, and why we should care.
All presentations will be held at Lake Michigan College in South Haven beginning at 6:45 p.m. with a wine and cheese reception followed by the speech at 7:30 p.m.  Admission is $10.  Students are admitted free.