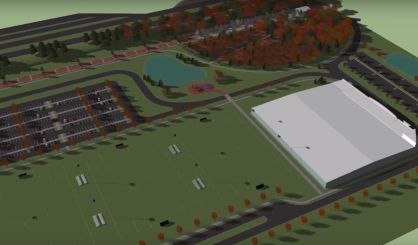 A massive 28-acre park will honor those killed and wounded last February in three separate shootings in and around Kalamazoo. Mattawan's Laurie Smith lost her husband Rich and her son, Tyler, in the second of three shootings allegedly carried out by Uber driver Jason Dalton and spoke last night at Wings Event Center at a public memorial.
"Without my family, I don't know what I would do," said Smith. "And by family, I don't just mean my blood-related family. I mean those people that I don't even know – many of you."
The candlelight vigil was held Monday night at Wings Event Center, formerly Wings Stadium, in Kalamazoo. The Rev. Paul Fazio, pastor of North Park Reformed Church, told the crowd that the community is "an example of not letting darkness win" and he says "Kalamazoo is brighter than that."
The victims killed were Rich and Tyler Smith of Mattawan, Mary Lou Nye of Baroda, and Mary Jo Nye, Barbara Hawthorne, and Dorothy Brown of Battle Creek. The four women were killed in the parking lot of the Cracker Barrel in Texas Township. That shooting also wounded then-14-year-old Abigail Kopf, who continues to recover. Tiana Carruthers was the first victim, and survived being shot protecting children at an apartment complex in Richland Township, northeast of Kalamazoo.
The random shootings occurred last February at an apartment complex, a car dealership and outside a restaurant. Authorities have said they were carried out by Dalton in between rides picking up passengers. He faces six counts of murder. Dalton's attorney has said Dalton is expected to plead insanity in his defense.
The Associated Press contributed to this report. Image from a YouTube video showing the layout of the memorial park.