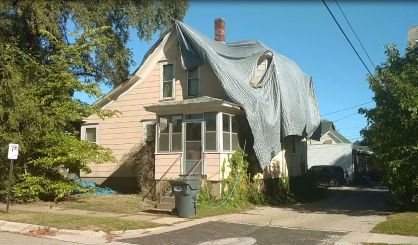 A blighted home in St. Joseph could soon be demolished. For several months now, city officials have been pressuring the owner of multiple homes, all under different names, to fix up his properties. First, there was a public outcry over a home on Wayne Street which has since been fixed. Now, the problem is with a home at Niles Avenue and Hoyt Street, which has had a tarp on the roof since last spring. City Manager John Hodgson tells WSJM News the owner's been told the city wants it gone.
"The owner has 20 days from the date of that notice to file an appeal with the property maintenance board of appeals, which would then meet and determine if there's cause to not follow that order," Hodgson said.
City Commissioner Jeff Richards says everything needs to be done to make sure property values aren't damaged by those who won't keep up their homes.
"We're going to insist that people keep up their property, not only because it's good for their property, but it's good for all the property around them," Richards said.
City inspectors got inside the house and say they found it dilapidated. If the owner of the home loses his appeal, the place will be ordered demolished within 45 days.