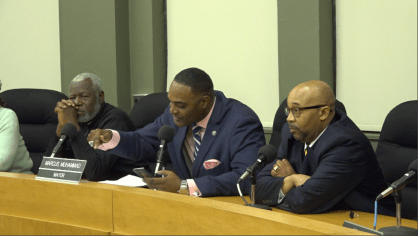 Benton Harbor Mayor Marcus Muhammad has a few ideas for how city government could better operate, and one of them is for his job to be full time. Muhammad suggested to city commissioners this week the mayor get a living wage.
"Something where the mayor is able to provide for a family and at the same time be able to look out for the interests of the city," Muhammad told WSJM News.
Muhammad tells us  the city has so many needs that both the mayor and the city manager should be on duty 9 to 5, 5 days a week.
"I think that there's a way where we keep the current form of government and expand the role of the mayor where you could have another executive at city hall to be able to handle the demand," Muhammad said.
Muhammad tells us commissioners have talked about having a vote of the people on the issue. He notes during his time as mayor, he's practically been on call 24-7, anyway. He points to a police officer-involved shooting last summer as an example of a time when the mayor was needed, regardless of his other responsibilities.