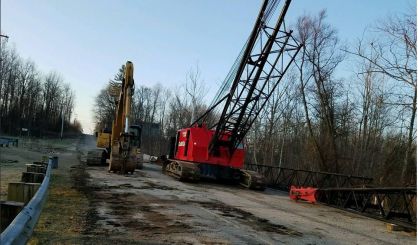 The small Van Buren County village of Breedsville is finally getting its south side bridge replaced. The bridge on County Road 215 over the Black River partially collapsed in December of 2015, causing a big headache for anyone trying to get into town from the south. Village Clerk Linda Norton tells WSJM News drivers have had to take a multi-mile detour to get in. On Monday, though, work finally started on replacing the bridge. Norton was pleased.
"It's like a miracle," Norton said. "It's just wonderful. All of our hard work is finally paying off."
Norton says they expect the bridge to be finished in late June, and the village will hold a small celebration. The roughly $1 million needed for the project has almost all come from the Michigan Department of Transportation, and Norton says former state Representative Aric Nesbitt was a big help in securing that.