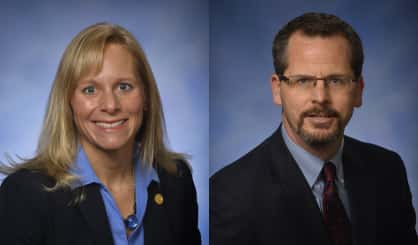 The Michigan House has approved legislation to prohibit a lawmaker who resigns or who has been expelled from office from running in the special election to fill the seat. The bill which passed 72-36 Thursday is a response to former Representatives Todd Courser and Cindy Gamrat running in special elections to finish the remainder of their terms in 2015. Representative Aaron Miller of Sturgis sponsored the bill.
"In the event of a rare resignation or the very, very rare removal from office of a legislator, at least this provides clarity on what the effect is," says Miller. "It's logical to me that if you resign from office or under the rare circumstance that if the House or Senate crosses the very high hurdle of removing someone from this body or the Senate, this says it remains in effect for that session."
Courser resigned and Gamrat was expelled after being accused of misusing state resources to try to cover up their extramarital affair. They lost the special elections. Miller says the bill would eliminate a "loophole" and ensure a legislator's resignation or expulsion is effective for the rest of the term. Similar legislation won approval in the House in 2016 but died in the Senate.
The Associated Press contributed to this report.