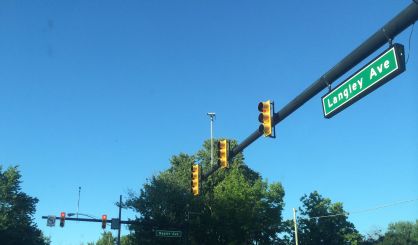 The Michigan Department of Transportation has begun work on seven traffic signal replacements around St. Joseph. City Engineer Tim Zebell tells WSJM News the new signals going in around town are different in that they sit on mast arms that extend out over the intersection, rather than hanging from wires.
"It provides a cleaner look," Zebell said. "You don't have as many wires or cables. If you look down Main Street, you don't see overhead wires, and we wanted to keep that."
To see an example of the new type of signals, check out the intersection of Langley and Napier. They'll now be like that all over the city. Zebell adds they're also putting in internally lighted street name signs so visitors can more easily tell which street they're on. The work should finish in May. Below is a list of all the affected intersections.
I-94 BL (Main St.) at Lake Blvd. and Winchester
M-63 (Niles Ave.) at Napier Ave.
M-63 (Niles Ave.) at Botham Ave.
I-94 BL, M-63 (Main St.) at M-63 (Niles Ave.)
I-94 BL, M-63 (Main St.) at Park St.
I-94 BL, M-63 (Main St.) at Broad St.
I-94 BL, M-63 (Main St.) at I-94 BL (Port St.)