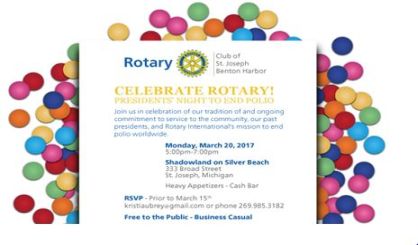 Coming up on Monday will be a celebration of the St. Joseph-Benton Harbor Rotary, and everyone's invited. Rotary President Stephen Smith tells WSJM News they're holding the second annual Celebrate Rotary Presidents' Night to End Polio at the Shadowland Ballroom in St. Joe. He says they want to get word out about the things Rotary does.
"The efforts we make in the community to work with students, to bring clean water to the Dominican Republic, literacy, all of the various programs that Rotary works on," Smith said. "We wanted an event that would recognize what we do and celebrate the good works."
Smith says the local Rotary will mark 100 years next June, and Monday's party will be a chance for anyone to come and get information about its impact on the community. The event will be from 5 to 7 p.m. at Shadowland, and you can RSVP at the Rotary's website. They'll have food, music, and a cash bar. It's free to get in.