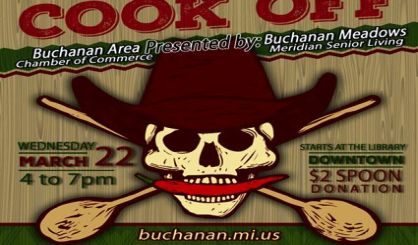 Wednesday brings the 11th annual Chili Cook Off and Walk in Buchanan. Randy Hendrixson, with the chamber of commerce, tells WSJM News 31 chilies will compete for three awards as folks walk around the downtown and sample them. They're made by all sorts of locals.
"There's definitely a lot of competition of local eateries and restaurants, but also local citizens," Hendrixson said.
Those who take part in the chili walk will get a spoon and then be able to go where they want. They can also vote on their favorite chili, as well as the one with the best name. There's also a panel of three judges picking the Judges' Choice. The Chili Walk runs from 4 to 7 p.m. It's $2 to take part.