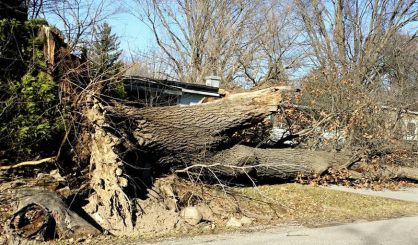 A report from Crain's Detroit Business finds Michigan has ranked fourth in the nation for power outages over the last six years, despite ranking tenth in population. Judy Palnau, with the Michigan Public Service Commission, tells WSJM News there are a few reasons why we're so often in the dark, and one of them is infrastructure.
"Aging infrastructure on electric side and on the gas side," Palnau said. "Utilities are in the process of replacing a lot of that. We're talking, on the electric side, perhaps 80 years old. On the gas side, we still have some underground infrastructure that's 10 years old."
Palnau says the MPSC has taken some steps to ensure utilities address the issue.
"This year, both DTE and Consumers Energy have had electric rate cases that were decided by the Michigan Public Service Commission, and for the first time ever, the commission has asked both of those utilities to come back this year with a five-year plan that shows that they intend to do in terms of investment at the distribution level."
Palnau notes energy reform legislation approved last year has given it more tools to boost grid reliability. Another reason for power outages in Michigan is we have a whole lot of trees, which is why the MPSC is always urging utilities and property owners to stay on top of trimming them. Palnau tells us there are no statistics on which electric company has the most outages, although she notes Consumers Energy and DTE are, by far, the biggest providers in the state.