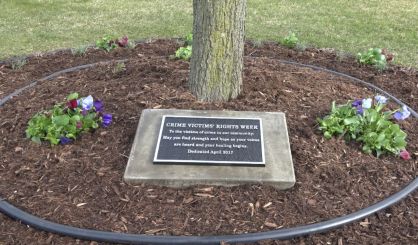 The victims of crime are now permanently honored at the Berrien County Courthouse in St. Joseph. On Thursday, Prosecutor Mike Sepic and representatives from several groups that help victims dedicated a plaque and a flower bed right out front honoring those directly hurt by crime. County Victim Services Coordinator Carolyn Groen told WSJM News they wanted to send a message.
"Victims come here every day to go through this process, talking about what they've been through," Groen said. "There's a lot of loss, there's a lot of hardship. There's also a lot of healing that can go on through it. So, we want people to know that's what we're doing here. We serve the victims every day here."
Groen says they work with domestic violence victims, assault victims, the families of murder victims, and countless others as a regular part of their job. The flower bed surrounding the plaque represents all of the victims' struggles. For example, purple represents domestic violence, blue represents sexual assault, and red represents those whose live have been taken by criminals. Groen told us different victims have different needs, and it's thanks to the hard work of many volunteers that each can be helped. She thanked all of them for their efforts.