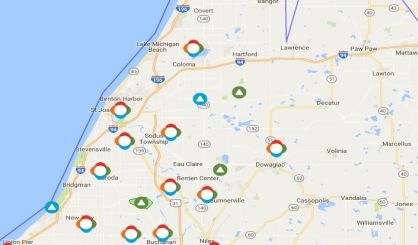 Indiana Michigan Power crews have been busy dealing with outages caused by high winds. I&M spokesperson Tracy Warner tells WSJM News the steady wind blasts throughout Thursday meant they'd restore in one place and then another would go down.
"We have had some power restored, and then more outages have occurred," Warner said.
As of about about 8 p.m. Thursday, Berrien County had about 2,500 outages.
"This is almost all winds," Warner said. "A lot of trees and branches and limbs in our lines."
Warner did not have a restoration update. He said I&M was coming up with an action plan to move Indiana crews into Michigan for restoration work Friday. You can stay on top of the outage situation with I&M's online map. You can also sign up for alerts that will be sent to your phone when your power goes out. They'll tell you when they expect it to be back on.