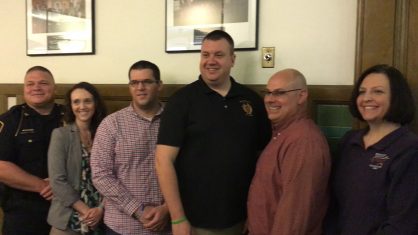 It's sometimes overlooked, but the job of a 9-1-1 dispatcher can be among the most stressful positions in law enforcement. To that end, the Berrien County 9-1-1 Advisory Committee is honoring those who did outstanding work in 2016. Chikaming Township Police Chief Todd Taylor made the announcement of this year's Dispatcher of the Year, Danyeal McGee, Thursday morning before the Berrien County Board of Commissioners.
"Danyeal McGee answered a call on April 19, 2016 from a 10-year-old reporting that her father was dead, and her mother was missing. Those kind of calls are very stressful, especially in a dispatch center," Taylor told the board.
That call and the crime scene hit home for us at WSJM News and Midwest Family Broadcasting, as one of the victims was WSJM News Week In Review anchor and 98.3 The Coast morning co-host Denise Bohn-Stewart. Her body was found by police in a bedroom in her Royalton Township home almost exactly a year ago, with her husband's body found in the basement by the children.
"These dispatchers have to remain calm and collected through the entire call process," Taylor told WSJM News. "They have to be able to think quickly as far as getting the resources to these homes where the victims are at in a pretty timely manner."
Chief Taylor says McGee not only did outstanding work handing the call from Denise's oldest daughter, but went above and beyond afterward.
"She set up a fund in dispatch to send the children of the victims a care package. This was a difficult call, and she did an excellent job handling the situation."
Southwest Michigan and northern Indiana residents also responded, as funds were donated to help Denise's three children after the murder-suicide of her and her husband. As we approach the one-year anniversary of Denise's murder, our stations are preparing a permanent memorial to her outside our studios to go along the breast cancer advocacy for which she will always be remembered.
The other five dispatchers honored as finalists for the Dispatcher of the Year were Ryan Streelman, handled the 9-1-1 calls from the Berrien County Courthouse shootings last July, Eric Ruth, Cindy Napier, Curtis Howard, and Lanny Duffel.