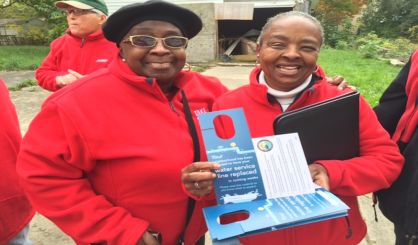 This week marked three years since the start of the Flint water crisis, and Saturday, volunteers from AARP Michigan hit the streets to help the city rebuild. Paula Cunningham, the state director of AARP Michigan, tells us volunteers are signing people up to get their water pipes replaced. She add it's critical to get the word out that replacing the pipes is the only long-term solution.
"Some residents are telling us, 'Oh, but my water has been tested.' Well, that's because they have a filter on it. We just want to make certain that each person knows that, regardless of whether your water has tested clean or not, you still have to have your pipes replaced. "
The door-to-door effort was the result of several listening sessions and surveys AARP Michigan conducted with Flint residents last year to determine how best to help respond.