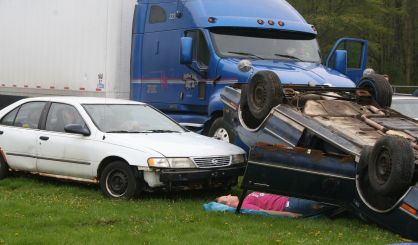 It was a busy day Wednesday at the Van Buren Technology Center as students from all over the region simulated a disaster. EMS Instructor JC Robertson tells WSJM News they've been doing this for 17 years now. Students played the roles of police, firefighters, and EMTs, while the cosmetology students made up the victims. Robertson tells our newsroom the disaster could be anything, but it's often based on real life situations and they try to keep it to current events.
"Last year was a school shooting, and the year before that was a big accident on I-94," Robertson said. "The year before that was the marathon bombing that was in Boston. So, we based it on the news."
Robertson said they try to make it look authentic. The students didn't know in advance exactly what type of disaster it was. Thnis year, it was a situation in which a bus hit a train. The kids had to rescue all of the victims.