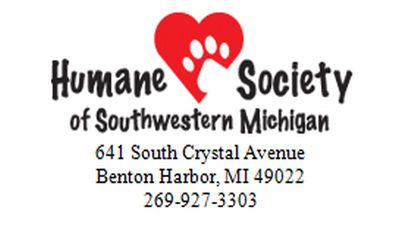 Ground will be broken on the Humane Society of Southwestern Michigan's new shelter in Royalton Township next month. Board President Don Blackmond tells WSJM News they have raised more than $1.2 million of the $2 million shelter goal, enough to get started on construction and to finance the rest. He says the campaign for a new shelter has been a success.
"It's absolutely incredible," Blackmond said. "It's going to be an amazing thing for homeless cats and dogs in our community, it's also going to be an amazing thing for the people who work there, and amazing for the community in general."
The Humane Society just held its Bids for Barks auction Saturday, raising more money for the shelter effort. Blackmond tells us it may have been the most successful auction yet, although they haven't tallied up the total yet. The organization will break ground on its new digs June 8. It could move into the place in December.