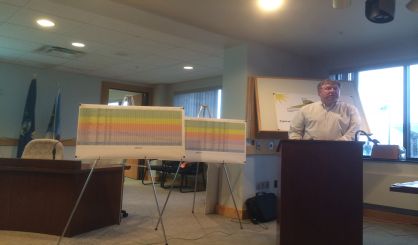 A whole lot of infrastructure work is needed in St. Joseph, and at a Wednesday meeting, city leaders spoke with residents to find out what work they consider the most pressing. Engineering consultant Shawn Keough tells WSJM News residents have to offer input because the dozens of projects likely in the next several years won't be cheap.
"It's likely that there will need to be some type of rate adjustment, likely an increase, or a combination of rate adjustments and a potential tax increase in order to fund at the level needed to improve the infrastructure, to make a dramatic shift in the infrastructure," Keough said.
Keough told us the city has sewers more than 100 years old, water mains that frequently break and need replacement, and plenty of bad roads. Thanks to a 2014 grant, the city has been able to compile a huge database of its assets and their condition, helping them be proactive. Two meetings on the infrastructure have now been held, and there will be another in July.