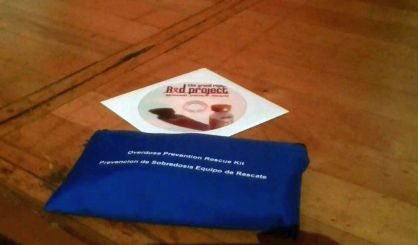 Parents and teachers in Benton Harbor have had a chance to learn about opioid addiction and anti-overdose drugs, thanks to an event Thursday at Benton Harbor High School. It was the Benton Harbor Area Schools Summer Safety Fair. The kids played basketball and had ice cream while the adults heard from Nancy King, with Families Against Narcotics of Southwest Michigan. She told WSJM News knowing addiction and how to use Naloxone is increasingly important.
"We have at least two million people that suffer from an opioid addiction, which is usually a prescription drug, at least 500,000 people that suffer from a heroin addiction, and it's a growing problem," King said.
King said Berrien County has the second highest overdose risk in the state, only behind Calhoun County. She gave out doses of Naloxone after training everyone on how to use it. Also at the event, parents could sign their kids up for summer programs. You can ask for a dose of Naloxone at the website of Families Against Narcotics of Southwest Michigan.