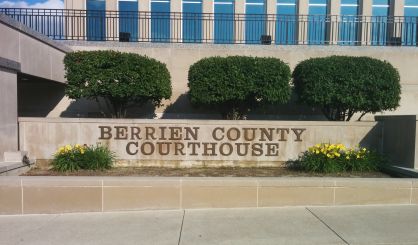 A couple from Wyoming, Michigan is in the Berrien County Jail after police say they were caught trying to bring a gun into the courthouse in St. Joseph on Tuesday. Berrien County Undersheriff Chuck Heit tells WSJM News it happened about 8:30 a.m. as the Arnelda and Molly Jackson were entering the courthouse. The x-ray scanner spotted the semi automatic handgun in the woman's purse, and then the man took off running. Heit tells us courthouse security was able to handle it and catch the two as they fled.
"We had some deputies right in the area," Heit said. "There's a a lot of people coming into the courthouse at that time of the morning, but we have some x-ray machines and metal detectors like you'd see in an airport, so the security screening process worked as designed."
Police are still investigating why the couple was at the courthouse in the first place. Both are charged with carrying a concealed weapon and resisting police. The man is also charged with being a felon in possession of a firearm due to a previous offense.