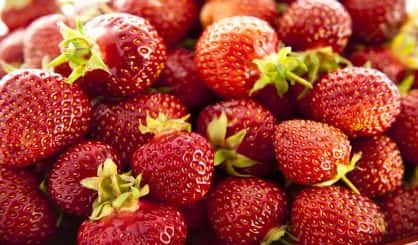 It's almost time for the Hartford Strawberry Festival. Co-chair Patty Schroeder tells WSJM News it'll be Friday and Saturday, packed with music, games, runs, parades, a magic show, a renaissance fair, bed races, a pie eating contest, and of course, plenty of strawberries.
"We do have on vendor who sells strawberry jam and other strawberry things you can get, and we will have strawberries for sale down at the park," Schroeder said.
The rides will be just $1, and Schroeder tells us families will have a blast.
"I think it's pretty affordable for the families, and I think we have a lot to offer this year for everybody," Schroeder said.
You can find a full Strawberry Festival Schedule below. All events will be held in Ely Park.
Friday, June 9:
12:00pm -9pm -Rides -Vertical Edge Entertainment
12:00pm -9pm -Food Vendors
12:00pm -5pm -Craft Show
5:30pm -Kiddie Parade lineup/bike decorating -Red Arrow Elementary
6:00pm -Kiddie Parade -with Grand Marshalls Zoe Phillips and Timmy Dibble -Parade down Main St.
6:30pm -Opening Ceremony
6:45pm -Crowning of Strawberry Royalty
7:30pm -John Dudley the Magician
8pm -10pm -"Harbor Town Band"-Classic Rock and R&B
Saturday, June 10:
All Events in Ely Park unless otherwise noted .
7:00am -Pancake Breakfast at Hartford High School Cafeteria Sponsored by Hartford Band Boosters.
7:30-8:30am -Strawberry Run Sponsored by Hartford Lions Club at Hartford High School.
8:00am -Start of 1 mile Fun Run at Hartford High School.
8:30 am -. Start of 5km walk, 5K Run, 10km Run at Hartford High School.
9:00am -The Bob Hall Memorial Car Show on Main Street
10:00am -9pm -Rides -Vertical Edge Entertainment
12:00pm -9pm -Food Vendors
12:00pm -5pm -Craft Show
10:00am -4:00pm Knightwinds Renaissance Group -Enjoy a mini-renaissance fair.
12:00pm -Parade Lineup -Hartford High School
12:00pm -12:30pm-Alley Kat Dance Studio
12:30pm -Community Hero Awards
1:00pm -Strawberry Parade
2:00pm -Parade Awards
2:15pm -Hartford Public Schools Music Department
2:30pm -Bed Races
3:00pm -Pie Eating Contest
4:00pm -Strawberry Karaoke Jr. Contest
5:00pm -Strawberry Karaoke Sr. Contest
6:00pm -8pm -"Sound of Elvis" with Steve Otto
8:00pm-10pm -"Tom Askey Project" -Rock/Country/Alternative