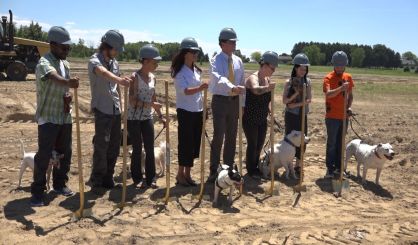 Work is now underway on the Humane Society of Southwestern Michigan's new shelter. Director Jill Svoboda told WSJM News at Thursday's groundbreaking the new place on M-139 in Royalton Township will be better for the animals.
"It will be way more efficient," Svoboda said. "The dogs will have guillotine doors so they can go in and out at their leisure, which is not a possibility right now. Also, the cats will be separated from the dog wing, so the cats won't have to hear the barking and the stress from the dogs. They'll be in a completely different wing."
Svoboda adds the new shelter will be much better for the staff and visitors as well. The Humane Society still needs to raise about $700,000 to pay for it. Svoboda says the old place in Benton Township is too old and falling apart.