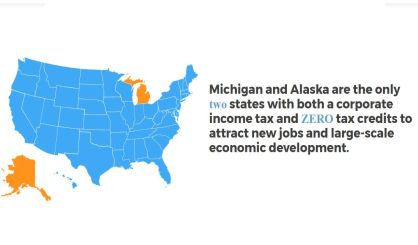 Kinexus has come out in favor of a plan to encourage businesses to bring large numbers of well-paying jobs to Michigan. The Good Jobs for Michigan plan is legislation that would give tax incentives to companies that create at least 250 jobs that pay 100% or more of the regional average for a trade. Kinexus CEO Todd Gustafson tells WSJM News there would be very real benefits to pushing for such jobs.
"If this program starts creating a lot of jobs that are either team assemblers, which pays an average of $11.99 an hour, or computer control machine tool operators, which pays an average of $14.04 an hour, when you start hiring hiring 250 of those, those are pretty important jobs across the spectrum," Gusafson said.
Specifically, the Good Jobs for Michigan legislation would allow up to 15 qualifying businesses to capture a portion of income taxes paid by new hires. Gustafson tells us it's  is similar to laws in many other states. Kinexus is now one of more than 60 organizations around the state backing the plan. You can find out more at GoodJobsForMichigan.com.