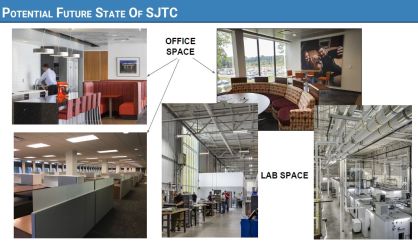 Whirlpool is planning a major investment in its St. Joseph Tech Center. Spokesperson Jeff Noel tells WSJM News they're putting $35 million into the facility with the addition of a new $24 million, 90,000-plus square foot building, along with $11 million in renovations to the existing property. He tells us Whirlpool wants to invest in its future by creating the work space modern professionals need.
"Those kinds of investments, that type of enabling for people to work smarter, faster, better, and more collaboratively, those are the kind of things that allow us to continue to be the number one major home appliance company in the world," Noel said. "Those are the investments in our people, in our facilities that we have to continually make because it's a very competitive environment."
Part of the plan involves the creation of a residential, commercial, and recreational area linking Whirlpool's 4,000-plus employees in St. Joseph and Benton Harbor. Noel says that could mean walking trails. The project is contingent on Whirlpool getting tax abatements made possible by having the city declare the area a commercial rehabilitation district. City commissioners last night voted to hold a hearing on the matter June 26.