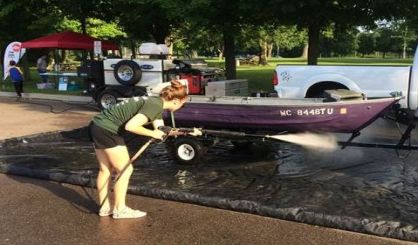 An effort will be made around southwest Michigan early next month to fight invasive species. The Southwest by Southwest Corner Cooperative Invasive Species Management Area, or CISMA, is staging a public education blitz. The Van Buren Conservation District's Eleanor Serocki tells WSJM News they're going to hold events in Berrien, Van Buren, and Cass Counties to wash boats and remind boaters that's the best way to stop invasive species.
"Things like zebra mussels spread by almost microscopic larva," Serocki said. "They're basically invisible to the naked eye. So, if you take a boat from one lake to the next and it's still damp or if your
There will be a free boat wash set up on July 1 at the Paw Paw Amphitheater on Maple Lake from 11 a.m. to 3 p.m. On July 2, it will be at Cass County's Harmon Park, and then on July 7 it will be at Paw Paw Lake's East Launch in Watervliet.