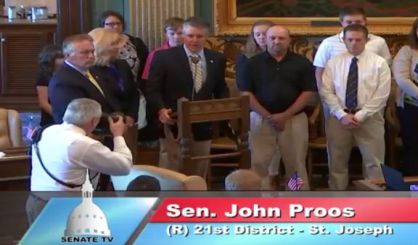 Two men who helped out a Michigan State Police trooper who was under attack by a couple of criminal suspects back in February have received special state accolades. Jerry Burnham, of Berrien Springs, and Keith Pepple, of Plainwell, were honored on the state Senate floor Wednesday by Senators John Proos and Tonya Schuitmaker. Proos said it was a good thing the two came along while Trooper Gerry Guild was under attack along the side of US-31 in February.
"Neither of these two hesitated," Proos said. "Instead, they got out of their vehicles, and put themselves at risk to save Trooper Guild."
Thanks to the pair, Trooper Guild regained control over the situation. Both Burnham and Pepple received certificates saluting them as good Samaritans. They were signed by the governor.