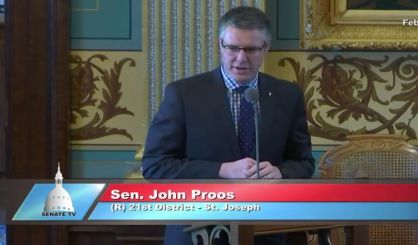 Legislation has been introduced by state Senator John Proos to help young people get themselves back on track after they've become caughtup in the criminal justice system. He tells WSJM News the plan would let juvenile offenders enroll in the Michigan Youth ChalleNGe Academy. It's a residency program in Battle Creek where those who have dropped out can get their diploma and even college credit. Proos tells us, under his bill, if a young person completes the camp, he or she can have their crimes expunged from their record.
"So they can begin to rebuild their lives from their youthful indiscretions and into something that can be far more beneficial as a citizen of the state of Michigan," Proos said.
Proos tells us helping wayward young people turn themselves around would help to reduce the incidents of offenders just winding up back in the system. The bill is now before a Senate committee.