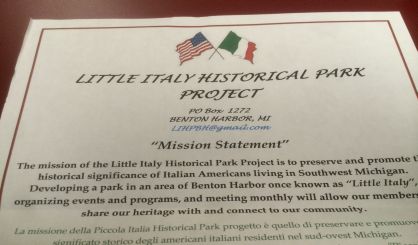 An effort is underway to spruce up an area of Benton Harbor that used to be known as Little Italy. Al DiBrito, of St. Joseph, tells WSJM News the plan is to turn land near Territorial and 2nd Street into a park celebrating Italian culture. He told city commissioners this week about its history as an Italian neighborhood, and outlined what he has in mind for the park property.
"It's on the Harbor Trail Walking Tour tentative map, so it would be a good place to stop and take a break if you're going through the Harbor Trail, but mostly to make a Mediterranean theme with a little bit of a bocce ball court and then a place where we could celebrate some old history and our heritage," DiBrito said.
DiBrito's Little Italy Historical Park Project is collecting funds for the effort. His group meets on a regular basis to talk Italian culture, and DiBrito tells us you don't have to be Italian to join. You can find out more at their Facebook page.